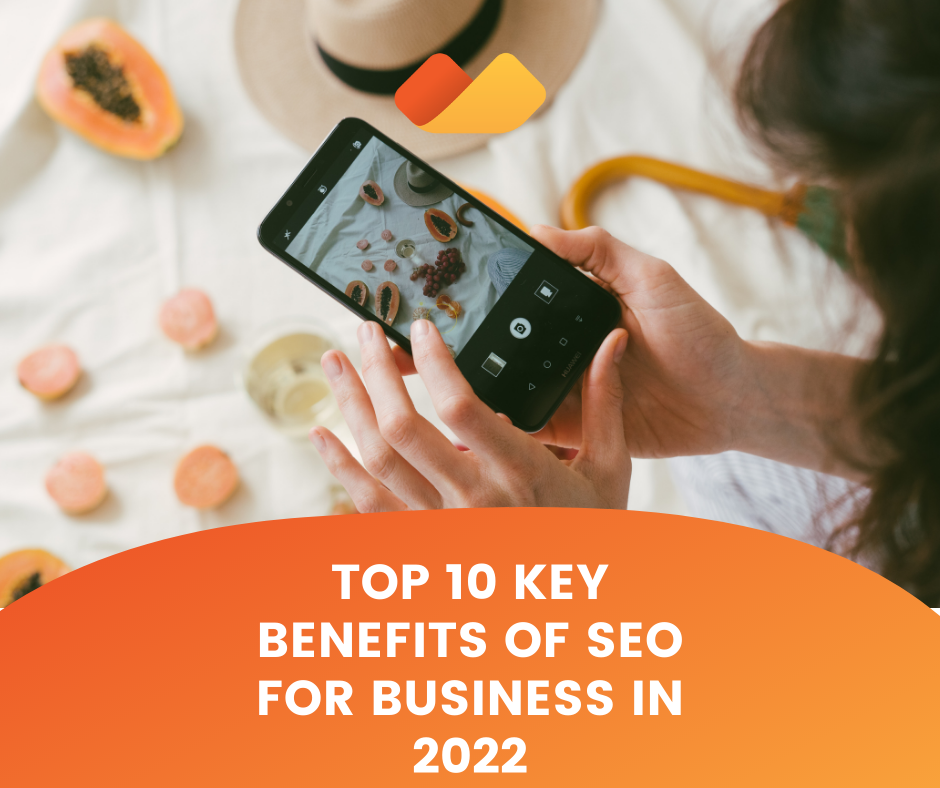 23 Mar

Top 10 Key Benefits of SEO for Business in 2022

If you are a Business looking to create long-term brand awareness, expand the target audiences, and earn more revenue, then SEO is crucial. It's hard to imagine that any business that runs a company and cares for its digital presence is not aware of search engine Optimization yet.

The benefits of SEO for business are practically endless. Taking advantage of them can enrich your brand's success in the marketplace. Here are the key benefits of SEO to implement in your business.
Key Benefits of SEO for Business
As mentioned, it may take a while before you begin to enjoy the benefits of SEO. SEO is an ongoing process and the rules are constantly evolving. To stay on top of changes, you should keep up-to-date with the latest SEO trends.
1. It Boosts Your Credibility
The site ranking high on SERPs is considered to be high-quality and trustworthy by search engines, and this boosts the credibility of your business. Invest your time in improving and optimizing the content of your site, increasing the site speed, and researching keywords to help your site enhance your rank even higher.
2. You don't have to pay to rank organically
This is one of the most essential advantages of SEO. Search engines algorithms are responsible for changes in organic rankings. Hence, all you have to do is to create and optimize your web pages such that the search engines think that your web page is worth being directed to users.
You don't have to pay search engines to get your web pages ranked. SEO is different from Pay Per Click advertising where you will be charged each time the user clicks and visit your website.
3. It supports content marketing
Authentic content and SEO work hand in hand. If you want your site to rank better in search results, you must create meaningful content by including text, images, and videos. You must ensure that the content is optimized for keywords and are of high quality. In order to get ranked on SERPs one has to keep their site content fresh and must update regularly.
4. It maximizes PPC campaigns
SEO and PPC work amazingly when working together. PPC makes your site appear on top of paid search results, whereas SEO does the same in organic. Having your site ranking for both by appearing on the top of the SERPS will help in boosting your credibility.
SEO can be useful to maximize your PPC Campaigns too. Example: High ranking page could do much better if you use it as a part of PPC advertising, with a low cost-per-click value.
5. SEO Gives you a Competitive Advantage
Competitors will likely be investing in SEO and that means even you should too. It is noticed that the websites on the first page of SERP get over 90% of the traffic. And if your competitor belongs to the first page results, you cannot afford not to be there.
Begin your journey by identifying the competitors, analyzing their strengths and weaknesses, and creating and handling your online reputation. Ensure your site loads fast and is mobile-friendly to provide the best user experience.
6. SEO helps to target a large audience
While many marketing strategies are focused on some defined set of target audiences, SEO helps you to attract anyone with the intent at a given point in time. Targeting keywords rather than targeting demographics can attract large prospects who are actually interested in your business.
7. SEO helps to rank on local search
As per research, 80% of the local search are from a mobile device which leads to conversions. Local SEO helps you to attract these searchers who are often ready to buy your service or product.
The first step towards the local search is to create a GMB profile and optimize it. Create listings in local business directories which help target the local audience.
8. SEO helps to Improve Website Usability
SEO is all about making your site search engine friendly. It also contributes to improving the customer experience when visited on your website. If you work on generating high-quality content for your site, if your site page speed is good and fast, responsive, add backlinks and enhance each page of your website. All these will help to improve your site's visibility.
9. You get quantifiable results
When you implement SEO, you can track the rank changes, organic traffic, conversions. There are different tools available to track this information – google analytics. You can use these insights to adjust and improvise your SEO strategies.
10. SEO boosts user engagement rates
Your site can get optimized traffic if your site is well optimized. If you have useful information on the site that matches the searcher's intent, the user will spend more time and will be engaged in spending more time. Eventually, these might lead to conversion and increased ROI.
You can use online tools to enhance your website and optimize it. Also, make sure your website is mobile-friendly and safe.
SEO has a lot of benefits for your website and can lead to long-term growth too. Build your website credibility and trust with the audience through our SEO services. Get 1 month SEO trial for free!