10 Mar

10 benefits of Google my business listing

With the days of phone book directories coming to an end, the businesses are now improvising their local marketing efforts to get their businesses online. Isn't it a good thing! Online directories such as Google My Business make it easy for your customers to find you easily. Comparatively these online directories help you reaching out to potential customers. Continue reading the article to know the advantages of having an optimized Google My Business.
Why do you even need to list your business on Google My Business (GMB)?
As per Google, 46% of queries have local intent. But still, there are so many businesses that fail to take advantage of the free-to-use GMB platform. There are several perks to setting up the GMB account. So if you're thinking of listing your business or looking for the best way to enhance your local presence, this article is for you.
Advantages of listing on Google My Business
Appear in Google Maps Searches
The first thing the consumers look at is the online reviews of a business. Then the second next factor is the proximity of the location. A quick Google search is effective for narrowing down the options and this works more effectively on smartphones as most consumers use Google Maps to locate the businesses nearby.
Whether searching for a popular restaurant to get your favorite dish or for local mechanics, Google maps will show you dozens of results, each indicating a local business that meets your search criteria. You'll just have to create the GMB listing and follow the verification steps and then your business location will start to appear for local searches as well. This allows users to instantly see how close you're to their location.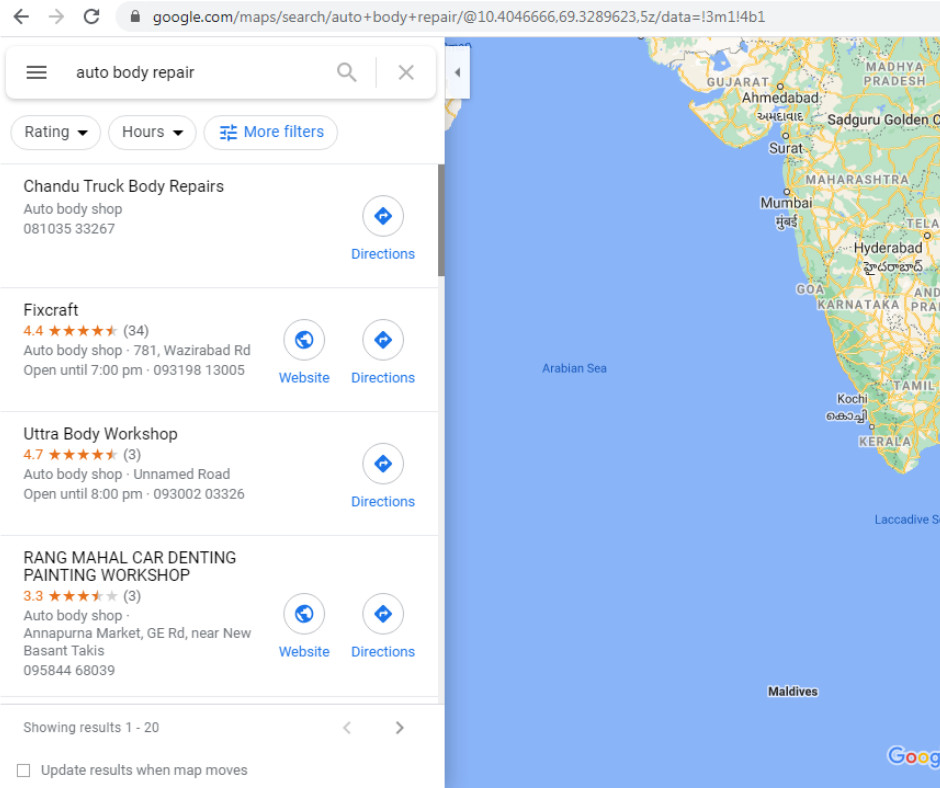 Appear in Google's local 3-pack
If you have noticed Google's local search results, you might have noticed that few years before this local 3-pack used to be the 7-pack results. Instead of simply getting listed in GMB, businesses around the world are busy trying numerous SEO tricks to boost their local rankings.
But most of the brands are unaware that just by creating a free GMB listing; they can increase the chances of making it for the local pack. And the most amazing thing is these listings not just show the location of your business but appear even before organic results – making your business easily visible to your consumers.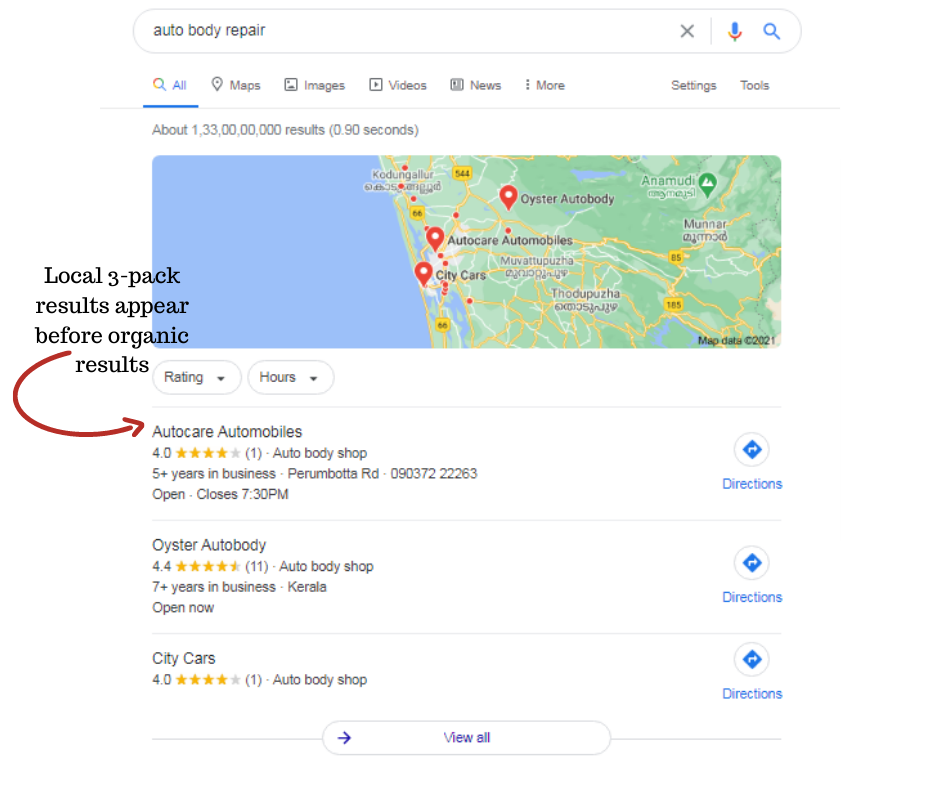 Gain trust from customers
For modern consumers face difficulty in trusting the brands to make a purchase confidently. By listing your business on GMB, you can ask your potential customers to see that your business has an actual location.
Google will pop up your brand whenever users place a local search and this will automatically build trust in your brand. Also, Google has multiple verification steps which every brand must complete while listing their business on GMB.
Reviews and star ratings enhance your appeal
This is one of the factors which the consumer considers before making out the purchase. As a consumer when you're buying something online, did you checked on the start rating or reviews of the product?
With GMB listing, your customers will be able to rate you and give a review for your business. This will help you to evaluate your business and help you to know the right and wrong of your business. As long you're delivering quality services and a great experience to your customers, over the period time you'll collect more reviews, and your overall rating will also improve.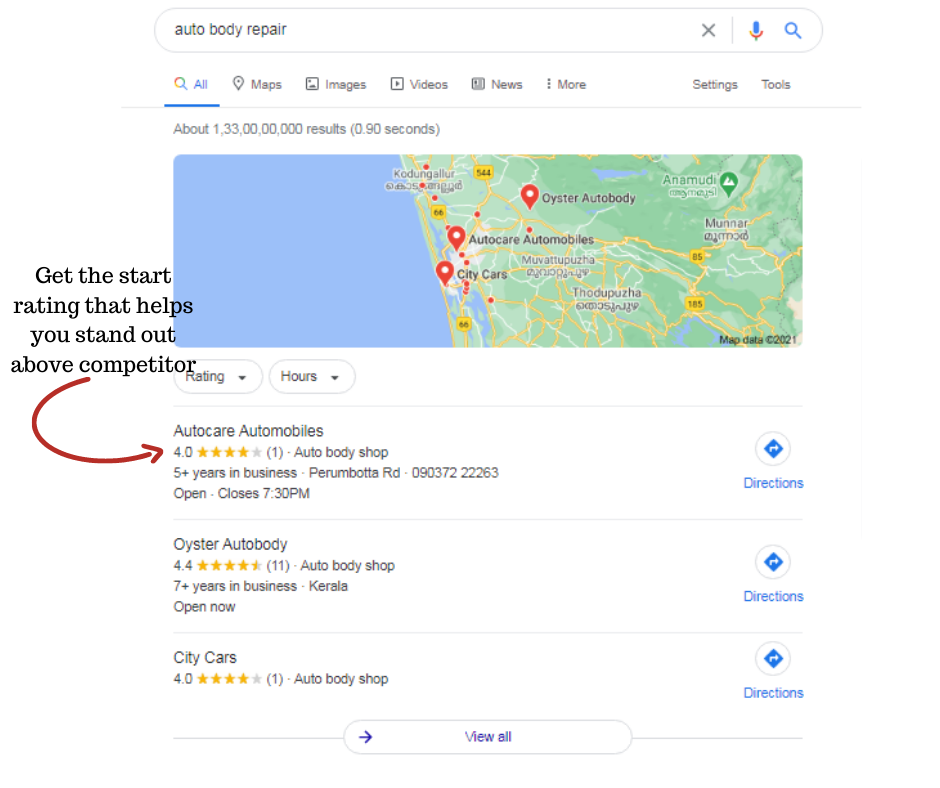 Boost the traffic and Sales
Another most challenging task for local businesses is to maintain the website traffic. Well, there is no such way wherein you can completely avoid the drop-down or increase in traffic throughout the year, but GMB listing can help you boost your numbers.
As per studies, Google found that the businesses showing up in local searches are much more likely to attract potential customers.
Get to know more about your business
Irrespective of the products or services you offer, the more you know about your customers, the better you'll be able to appeal to them. The "insights" section under your GMB account will give you an idea of what the customer is looking for, how visible your brand is, and who are your target audiences.
By utilizing this information, you can easily figure out what works for your business to attract potential customers and what needs to be modified.
Rank higher in results
The more your business is like by Google, the better and higher it will rank your business in its SERP and Maps results. The only way to get liked by Google is to create quality content with accurate information. The more you let your customers know about your business the more it will like you.
Google My Business profile is a great tool to feed your business information to Google.
Improve engagements
GMB profile offers you ample opportunities for engagement. GMB profile has a lot of easily available options for potential customers to reach out to you directly in one tap. Now it's even easier to book an appointment directly or to reserve a table in a cafe.
Running a free Google Advertisement
Running a Google ads campaign or Improving your SEO is a great way to get on top ranking. But these could take time to achieve higher ranks. On the other hand, GMB has a form of fast and free advertising on Google. It is free to create, claim and verify your listing. In fact, it takes a minimal amount of time to optimize your profile than to create and run an ad campaign.
It's not like you should stop working on Google ads and SEO, these are just marketing strategies that are worthy. It is just a cheaper and faster marketing strategy than SEO and paid ads.
Beat the competitors
Your GMB profile showcases the essential information in order to engage your potential customers. It also displays a brief description of your business to help the customers to identify the relevancy of their query. Therefore, it is much essential to have a description that includes relevant keywords. This small snippet of content will help you stand out from your competitors. Don't miss to get the benefit of this option!
Google's search is getting more and more robust, with many new features such as answer boxes, related questions, and many others. If you do not have the Google My Business profile for your business yet, then get started immediately and utilize the benefits.